If you haven't already done so, now is the time to book a flight to Cuba. With diplomatic relations smoothed over with the U.S., Cuba is no longer a sanctioned travel destination for Americans. So, as you can imagine, tourists are beginning to rush to visit the Latin American island in hopes to catch a glimpse of this under-developed country that looks and feels like you have traveled back in time to the 1950's.
Now, as if it is not already a hot spot for tourists, Karl Lagerfeld just upped the hype by holding Chanel's resort collection on the island's symbolic Paseo del Prado in Havana yesterday, May 3rd.
With celebrities like Tilda Swinton, Gisele Bündchen, and Kendall Jenner amongst the crowd, it is no surprise that the whole world now has their eyes on this small country. But, with all things considered, there seems to be some irony surrounding Chanel's show in Cuba. For one, Cuba is still a communist country, with professionals such as doctors making a mere $20 to $30 a month. So, it goes without saying that most, if not all, civilians are in no financial position to be purchasing pieces by Chanel. However, and from what we've heard and hope to soon see, Cuba is unlike any other country in the world with a beauty that is indescribable. Therrefore, it seems natural and true to Lagerfeld's vision that he held the fashion show for one of the most coveted brands in one of the most culturally rich and exotic locations.
Now, with all that being said, it is undeniable that this is a very exciting time in history for Cuba, as it is finally able to show all its beauty to the world. However, as is normal with change, it is also bittersweet to imagine that at some point, the undisturbed beauty and development will no longer be evident. In the meantime, we are more than happy to partake in the positive press and hype that Cuba is garnering from tourists and creatives alike and we, for one, cannot wait to book a trip there soon.
From panama hats to classic cars and colorfully sequenced dresses, Chanel's runway looks did not disappoint. And if they are as visually beautiful in person as they are in pictures, we are sure it was a once in a lifetime event to be a part of.
Take a peak below!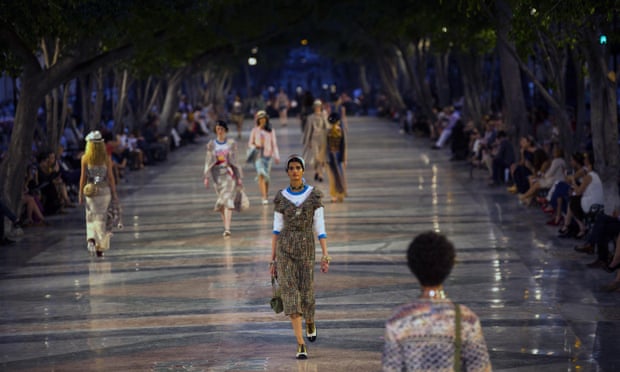 All images via Getty or Reuters