"Travel far enough, you meet yourself." – Cloud Atlas
I can't really begin to express how important traveling has been in my life. From Sao Paolo to Lake Tahoe, each place has taught me something new about myself, but has also been where some of my fondest memories have been made.
With that said, the truth of the matter is that, although traveling is essential to personal growth, it is, in a sense, a luxury. After we graduate college and become "adults," we are responsible for paying rent, bills, and of course, having a job and thus it becomes harder and harder to get away as we must think about budget, expenses, and cost… all of which are probably the most important factors in planning a trip. However, as I think about my life and where I've been, I become more of a believer that there is never a "perfect" time to take a trip and travel the world. But as a result of the inevitable rat-race that we have grown accustomed to, we have become so conditioned to come up with excuses that, although may be valid, only seem to prolong and delay the desire to satisfy our wanderlust. And as days become weeks and weeks become months, time continues to pass, with no regard for our excuses or schedule.
So, as I set my goals for the months to come, I've made a promise to continue traveling and to surf wherever and whenever possible. Therefore, if you plan to explore the world in the coming months, we've compiled a list of the hotels around the world to satisfy your surf fix, both international and domestic, that each have their own unique offerings. Each place will be sure to satisfy your surf fix as well as provide the best setting to make some of your most notable memories.
PLAYLAND MOTEL | ROCKAWAY BEACH, NEW YORK
Playland Motel is a great place to go, especially for a staycation or even just a weekend trip. Only a 4 minute walk from the beach, with a great surf break, and  a 2 minute walk from the subway, Playland provides a perfect mix of city culture and relaxed beach vibes. "The eclectic rooms (each designed by a different artist) have wood floors and shared bathrooms. There's also a suite that adds a kitchen, a lounge area and a private bathroom. There are no televisions and guests must be 21 or older."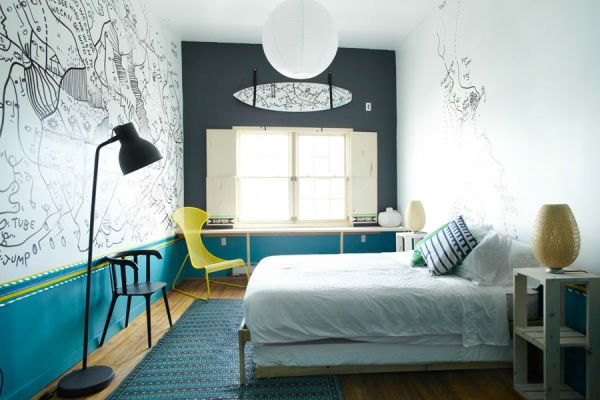 BOOKING: www.playlandmotel.com 
PRICE: $
---
THE SANDERLING RESORT | DUCK, NORTH CAROLINA
A beach town that is incomparable to many around the world, the Outer Banks or OBX as it is referred to by many, is a true gem. Although it isn't the easiest place to get to when you are coming from northern states, you will find that it is the distance and trek that makes it even more special. With surf breaks that are found all along the inlet's coast, from Hatteras to the 4wd area known as Corova, you haven't quite experienced the east coast surf scene until you've done the Outer Banks. And if you're looking for a nice beachside experience, the Sanderling Resort is the place. With a good surf break right out front, you'll experience the best of southern comfort and great waves.
BOOKING: www.sanderling-resort.com
PRICE: $$$
---
SURFERS LODGE PENICHE | FERREL, PORTUGAL
After one night here, you'll realize that Surfers Lodge is more like a home than a hotel. With a community room equipped with a fireplace and surfing gear serving as the decor, this place is perfect for some rest and relaxation. With yoga, surfing, skateboarding, biking, and a spa, it is highly unlikely that you will find yourself looking for things to do. With locally-sourced organic food served at the restaurant and in-house surf instructors to assist you in catching the perfect wave, you'll be sure to leave feeling better than ever both in and out of the water. OK for kids, but not recommended due to the generally older customers.
BOOKING: www.surferslodgepeniche.com
PRICE: $$
---
LONG BEACH LODGE | TOFINO, BRITISH COLUMBIA
Located on the beautiful Cox Bay beach, this lodge-like hotel provides a different kind of surf hotel experience. Swap palm trees out for beautiful plush pine trees and you'll have the serene setting that surrounds this cozy destination. If you're looking for a change, Long Beach Lodge has various accommodation options – from modest rooms to upgraded 2-story lodges equipped with fireplaces and hot tubs. Although not ideal for young children, Long Beach Lodge has enough activities to keep kids entertained and occupied, plus there is also a great hotel restaurant. Most importantly, the surf break is located right in front of the hotel and lessons for beginners are also offered.
BOOKING: www.longbeachlodgeresort.com
PRICING: $$-$$$
---
PLAYA MADERAS | SAN JUAN DEL SUR, NICARAGUA
Every now and then creatives and visionaries come together to build a memorable place where some of the most unforgettable experiences are made, and Maderas Village is exactly that. A concept created in 2009, and which is now a fully-equipped hotel, has attracted international acclaim from bloggers and travelers. With yoga and surfing as a big attraction, Maderas has expanded to host concerts as well. With young creatives behind its name, Maderas is a place where you not only meet interesting people, but do interesting things as well. For a very reasonable price, Maderas will give you an experience that will leave you wanting to come back for years to come. Not ideal for kids, but great for teens and older.
BOOKING: www.maderasvillage.com
PRICING: $$
---
THE ROSE HOTEL | VENICE BEACH, CALIFORNIA
Deemed a "clubhouse for creatives" and started by fashion photographer Glen Luchford and portrait shooter Doug Bruce, the Rose Hotel is cooler than you would imagine. With shabby-chic interiors and surfing photographs hanging all around, this quaint boutique hotel is a hip surfers dream. As Tablethotels.com says, "Rooms range from very affordable shared-bath bedrooms to some properly luxurious residential-style suites, a bit of something for any conceivable budget. As for services, they're delightfully minimal, and delightfully well chosen: Stumptown coffee, exquisite croissants from Sugarbloom Bakery, and daily deliveries from Moon Juice." Not great for children, but great for the young-adult crowd.
BOOKING: www.therosehotelvenice.com
PRICING: $$$
---
THE HARMONY HOTEL | NOSARA, COSTA RICA
This beachfront hotel is located at one the of the most notable surfing destinations in Costa Rica and Central America. For a reasonable price, the Harmony Hotel provides comfortable room accommodations and a great outdoor restaurant. In addition to a pristine surf break, the hotel also offers great yoga classes that will leave you relaxed and renewed. This is a great place for families to get away for some much-needed bonding time or simply a great surf trip.
BOOKING: www.harmonynosara.com
PRICING: $$ – $$$
---
THE HEADLAND | CORNWALL, UNITED KINGDOM
This is definitely one of the more unique hotels found on our list. Located in Cornwall, UK, the Headland Hotel is nothing short of a once-in-a-lifetime experience, especially for surfing, for you will most likely never find another world-class surf break in front of a 19th century hotel. From suites to self-catering cottages, there are accommodations to suit any type of rooming preference. Additionally, "the oceanview restaurant serves locally sourced produce and afternoon tea. There's also a seafront veranda and a bar. Leisure facilities include a heated indoor pool with sauna and steam room, an on-site surf school, a 9-hole golf course, a stylish spa, 3 tennis courts, a croquet lawn and boules area."
BOOKING: www.headlandhotel.co.uk
PRICING: $$ – $$$
---
THE HALYCON HOUSE | CABARITA BEACH, AUSTRALIA
We believe Vogue Australia said it best in their June 2015 issue: "Located halfway between the glitzy Gold Coast and bohemian Byron Bay — but a world away from both — Cabarita Beach is little-known beyond locals and itinerant surfers. For this reason it seems an unlikely place for one of Australia's newest, most distinct boutique properties, Halcyon House." And with a beachfront pool, a day spa, 2 restaurants, a fantastic surf break, and individually designed rooms with antique furniture, this boutique hotel shows us exactly why Australia is a must on everyone's bucket list.
BOOKING: www.halcyonhouse.com.au
PRICING: $$ – $$$
---
MEMMO BALEEIRA HOTEL | SAGRES, PORTUGAL
Characterized by its relaxing, contemporary atmosphere of design, this 4 star design hotel has everything you need break from your daily routine or for a few days of holiday retreat in the relaxing and beautiful town of Sagres, in the Algarve. The resort has 144 rooms and family friendly suites, with views over the sea and over the Baleeira harbor. Stylish, minimalist rooms have free Wi-Fi, flat-screen TVs and minifridges. Some offer ocean views, while suites add lounges, microwaves and balconies. Upgraded 1- to 2-bedroom suites include kitchenettes; some have 2 floors.
BOOKING: www.memmohotels.com
PRICING: $
---
ROUNDHOUSE HOTEL | BARBADOS, WEST INDIES
If you are looking for beautiful beaches, but also great surf then Roundhouse Hotel in Barbados is the perfect place. "Located in historic Bathsheba on the rugged east coast of Barbados, Round House has been a popular destination for locals and visitors alike for over 100 years. Offering commanding views of the entire Atlantic coast, a unique scenic environment and an undisturbed stretch of beach studded with natural tidal pools located just a one-minute walk down the sand to the "Soup Bowl", one of the world's premier surf spots. Great for kids and families.
BOOKING: www.roundhousebarbados.com
PRICING: $$
---
NIHIWATU RESORT | BALI, INDONESIA
According to the acclaimed hotel review site, Mr. and Mrs. Smith, the Nihiwatu Resort is nothing short of exquisite. "A cluster of rustic-luxe villas perched above a stretch of unspoilt Sumbanese coast, Nihiwatu hotel feels perched on the edge of the world. Preserved from urban development, this off-the-beaten-path Indonesian island is an idyllic setting for once-in-a-lifetime romance. Unplug and explore acres of luxuriant valleys, a vibrant local culture and world-famous surfing breaks."
BOOKING: www.nihiwatu.com
PRICING: $$$$
---
SURF MAROC | KILLERS BAY, MOROCCO
With six different locations, Surf Maroc is Morocco's leading surf holiday company providing the best accommodations at one of the premier surf destinations. Founded by 2 soul surfers in 2003 with 5 boards, a few old wet-suits, an even older Transit van, and the notion of spreading the love of surfing as much as they could, Surf Maroc has become the best place for the surfer looking to broaden their cultural experience. In addition to surfing, Surf Maroc also offers great yoga classes, beach excursions, and an on-site photographer to capture every moment of your epic trip.
BOOKING: www.surfmaroc.com
PRICING: $$ – $$$
---
HOTEL ESCONDIDO |
PUERTO ESCONDIDO, MEXICO
"A natural jewel nestles between the Pacific Ocean and the Sierra Madre del Sur mountain range that snakes through the Mexican state of Oaxaca. A top-ten surfing and popular fishing destination, the tiny coastal town of Puerto Escondido invites with its laid-back atmosphere and beachside vibe. Hoteliers Carlos Couturier and Moisés Micha, the duo behind Grupo Habita, have transformed a pristine stretch of Oaxacan coastline into a private paradise for beach bums and thrill seekers alike." There is also an infinity pool on the beach, a fusion cuisine restaurant serves breakfast, lunch and dinner plus additional amenities that include a beach club, an underground bar and a spa area with a steam room.
BOOKING: www.hotelescondido.com
PRICING: $$$
---
THE SURF LODGE | MONTAUK, NEW YORK

Many of us know The Surf Lodge as being the go-to spot to catch some of the best and most intimate musical performances of the summer and year; however, this awesome boutique hotel boasts some of the best interior design and hotel accommodations around and consistently tops the list of the best boutique hotel spots to check out. With Ditch Plains beach close by, this hotel is the perfect place for the music lovers and surfers alike. Since the nightlife scene is prevalent, this is definitely a better place for those 21 and over.
BOOKING: www.thesurflodge.com
PRICING: $$$
Main photo credit: Hotel Escondido.
Article photo credits via respective hotels.